Georges Pelletier: from ceramics to art.
You are passionate about ceramics and objets d'art from the 70s, 80s.
The famous lights and mirrors in the shape of the sun or his totems which are part of his most famous creations.
But deep down, I guess you don't really know more.
I am fortunate to be able to collaborate with Georges Pelletier and to be his agent.
Which prompted me to write this article to you.
Which led me to write you this article. I told myself that you would love to know better this artist who thanks to his talent is now recognized worldwide.
I will take you on a trip to his studio, explain his career, his works.
Connoisseurs will tell you that one easily recognizes his achievements.
After reading this article you will know more and if you are already a connoisseur you will learn things is certain, because very few people have the chance to see him work.
Let's start with his story.
The path of Georges Pelletier.
Georges Pelletier was born in Brussels on 10.09.1938.   He made his debut for two years at the Academy Charpentier in Paris (School of Arts and Crafts), which is now the Picasso Museum.
From 1954 to 1956 he trained in drawing at the Charpentier Academy and there prepared for the competitive examination of the École des Métiers d'Art.
Very curious, he listens attentively to the artistic advice of his older comrades.
Occasionally he goes to the studio of artist Fernand Léger, where he presents his work to the foreman and learns to draw. At the age of sixteen, in 1955, he entered art school. To perfect his know-how, he attended Claude Pantzer's workshop.
During the school holidays he joined the Potteries of Accolay.
In 1961 he opened his first studio in Paris, where he created his first unique pieces. He was spotted by the Bobois house for his tallent.   That's why he became a supplier of Roche Bobois lighting collections from 1961 to 1973. He had his own workshop dedicated to the creation of lighting fixtures for this big house.
In 1973 he decided to leave for the south, in Cannes, where he set up a new workshop where he is still active and continues to work with his son Benjamin.
Let's talk about his workshop in Cannes.
Georges Pelletier's workshop.
There are many treasures there.
There are works everywhere: on the floor, shelves and walls. Georges Pelletier likes to say "I can't sell them. You have to keep works around you, it helps to create". Some works that few people know, that he realized during the 60s, are close to his heart. So he keeps them preciously.
Here are some pictures of his studio and himself working.
You will notice the finalization of the manufacture of a luminaire, on which you can see a lot of details.
These creations require a lot of work. They are made up of small pieces that he makes one by one by hand.
"That's what makes the beauty of the work in the end." Each piece is different and therefore unique.
This is also the peculiarity of his achievements. Once illuminated, the magic operates and all these details are highlighted.
Here is the photo of a sun that was being finished.
You let admire the work it takes to achieve all these details.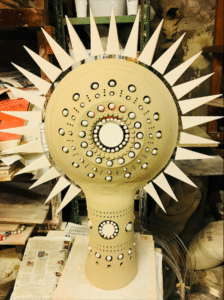 When you go down the stairs to get to the studio there are always mirrors and sconces against the wall.
Here are some photos:
As I told you, there are many major works there.
In this photo you will find one of the specificities of the artist's work.
He comes to pose gold and platinum and mixes the colors copper, bronze and bluish black.
Brown, for example, goes very well with white enamel biscuits.
Once lit, these works are surprising.
A small example in photo :
Whether you mix these creations with a modern or classic interior, they will always know how to marry very well and create a very nice balance.
Here is a photo from his archives.
This is a photo of the lamps that the Roche Bobois house was selling. It was a real success.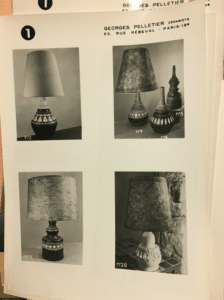 Every three weeks, when I go to see Georges and his son Benjamin in the studio, I travel through time.
Georges loves showing photos of his work over the years, explaining the evolution of his creations.
On your way to the workshop I took a picture of a pair of similar lamps for you, which he made in the early 1980s and which he keeps to surround himself with his favorite objects.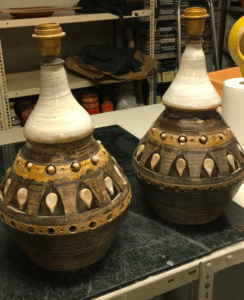 Do you know the Totem floor lamps by Georges Pelletier ?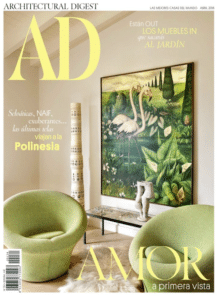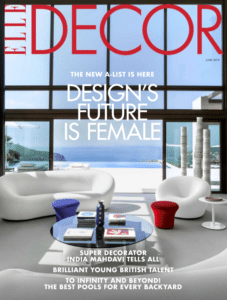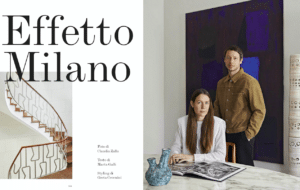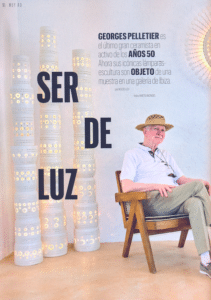 Here is a picture taken in the master's studio.
At the back you can find one of the ovens in which he cooks the pieces.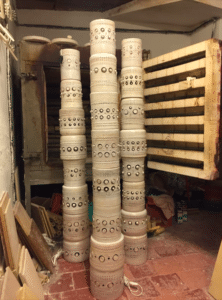 If you only know his luminaries "Totem" or "sun" or his owl lamps, he also made sculptures which are rarer.
Finally you understand it Georges Pelletier is an exciting artist who likes to share and make known his knowledge.
It is very simple to recognize his works that are atypical.
I am very proud to be his agent and to collaborate with him and his son who works with him in the workshop and who will perpetuate his knowledge.
It is always a pleasure to be able to listen to all his stories and to learn a lot.
Any other questions come to your mind?
Do not hesitate to contact me, I will answer you as soon as possible.
Thanks for sharing this article.
Below you will find the different links to social networks on which you can share.
And you: what did you know about Georges Pelletier?
I'm waiting for your answers.
To do this you will find below a comments area.