At the beginning of April, I want to tell you more about Julien Allegre and his creations.
I think it is very important to be close to an artist when representing his work.
You have to immerse yourself in his universe to better understand it and therefore transmit the message he wishes to convey through his works even more precisely.
Julien Allegre brings a lot of importance to the history of his creations.
The perfect place to learn about this, of course, is an artist's studio. This is why very regularly I go to his workshop so that he can share his ideas with me.
We talk a lot about the evolution of his work and his future plans.
Did you know that Julien Allegre's achievements combine music, nature and human beings.
Because yes, his achievements bring these three things together to bring us to a certain reflection on our evolution and what surrounds us.
We can therefore ask ourselves, what are the means he uses to make us wonder about this?
To begin, for those who do not know Julien, I will briefly summarize his journey.
Julien Allegre is a self-taught artist. Since 2001, driven by his inner creative force, he has continued to develop his mastery of the technique of steel and specializes in sculpture.
He made his own teaching by himself. Passionate about music, he plays drums first and then hang. His perseverance in his work allows him to meet people who will support him: in particular collectors and gallery owners.
Her sculpture displays a very personal, sensitive and evocative writing of timelessness. For those who know how to contemplate it, it tells us about human fragility, roughness, depth.
His beings with complex carnal envelopes seem to be inhabited from ancestral times, guardians of an era, infusing us with strength and serenity.
Today Julien Allegre is an internationally recognized artist, who continues to attract collectors and art lovers.
Here is a video where you will discover the universe of Julien Allegre in music.
A first performance in his studio, filmed by his director friend Benoît Renard.
Being also a professional musician, Julien really likes making me discover the creations where he puts music and sculpture in relation. He often talks about a fusion of sculpture and sound. Being a drummer, he hammers his cymbals as he plays on his sculptures in his workshop to provoke and generate sounds. There is therefore a direct link between these two complementary activities.
Which brings me to the "wave of the tree". A sound installation where Julien wanted to remind us that the tree reflects our lives and our roots.
The most incredible thing about this achievement is that the audience can interact with the work.
The artist wishes to push the sharing of his art by bringing the viewer inside his sculpture. As if it were in his head. Once again, he seeks to connect those who observe the work with the sensations and messages he wants to convey.
What I think is even more interesting is the fact that Julien Allegre does not impose anything. The person entering the sculpture is free to interact as they wish with the work, which makes their interpretation even more personal. Art is there to bring us well-being and this freedom that the sculptor gives us makes the experience all the more enjoyable.
Julien likes to take us back to the earth, to our origins. Above all, the tree is connected to the earth, which itself is the origin of everything.
With the experience of this "magic" tree, we are refocusing on essentials.
I let you discover this surprising installation on video:
As you can see, this realization created real sensations. An experience that I had the chance to test in his workshop.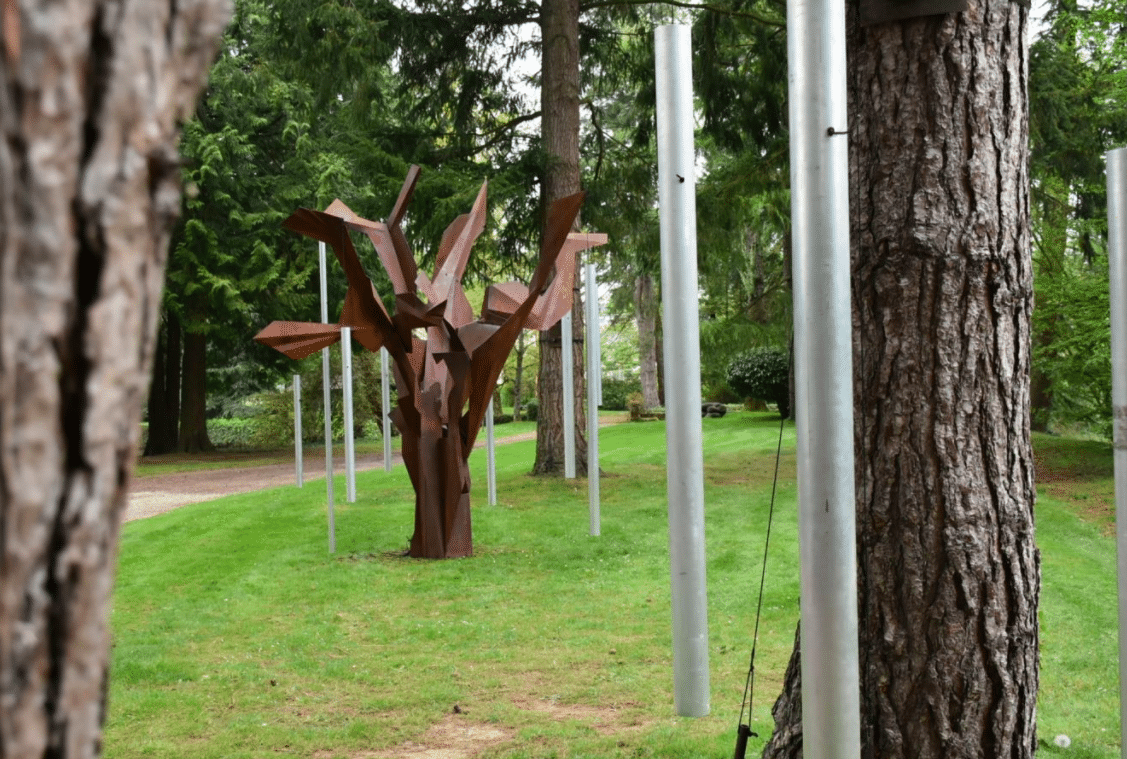 The artist likes to work on the touch of his pieces. He wants to push our senses to develop in front of his creations. As if he wanted to awaken us, so that we would be even more impressed with the message that he wishes to transmit to us.
Here is a video where Julien Allegre explains this to us through the presentation of his sculpture "The Beast" which was exhibited at the Villa Datris Foundation during the Bêtes de Scène exhibition:
We find in this video the link that Julien wishes to create between his sculpture and nature.
While keeping most of the material, he works it again to create new skin that will pique our curiosity, to the point of making us want to touch it. This experience that the artist seeks to bring us back to the bark of a tree. It seeks to bring us closer to nature, to make the link between man and the tree and to highlight the relationship between the two.
This brings me to tell you about the monumental sculptures he named "Fossil Men"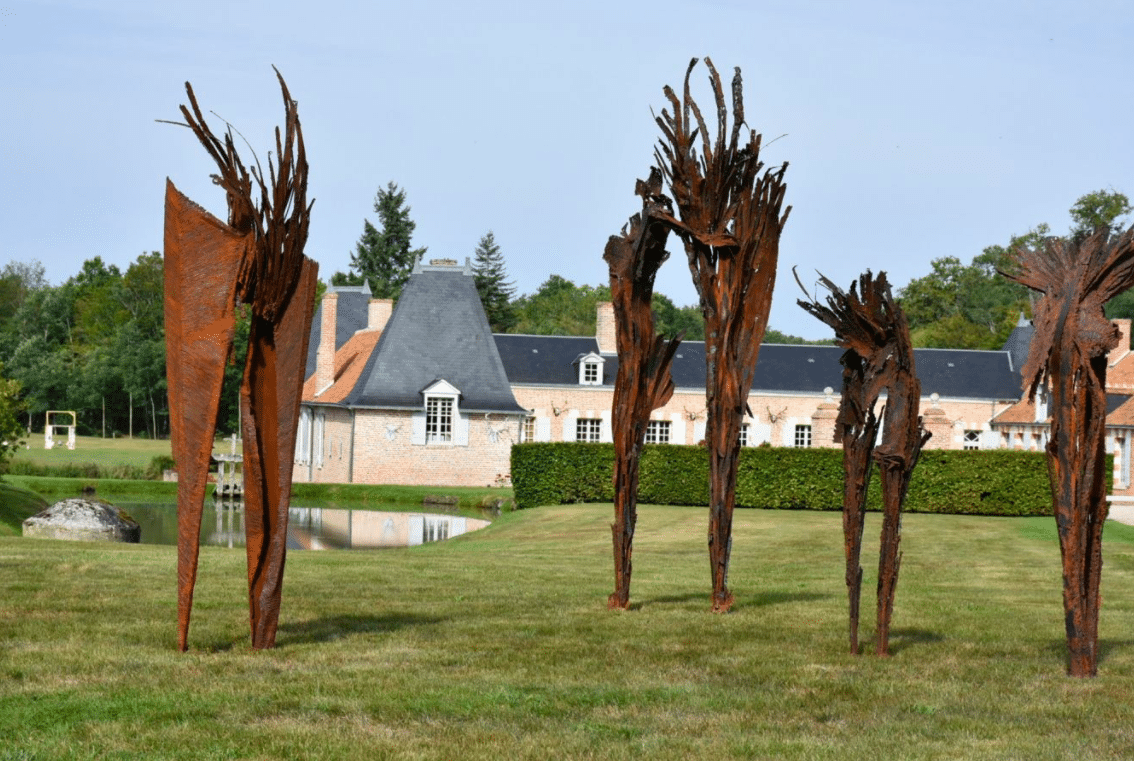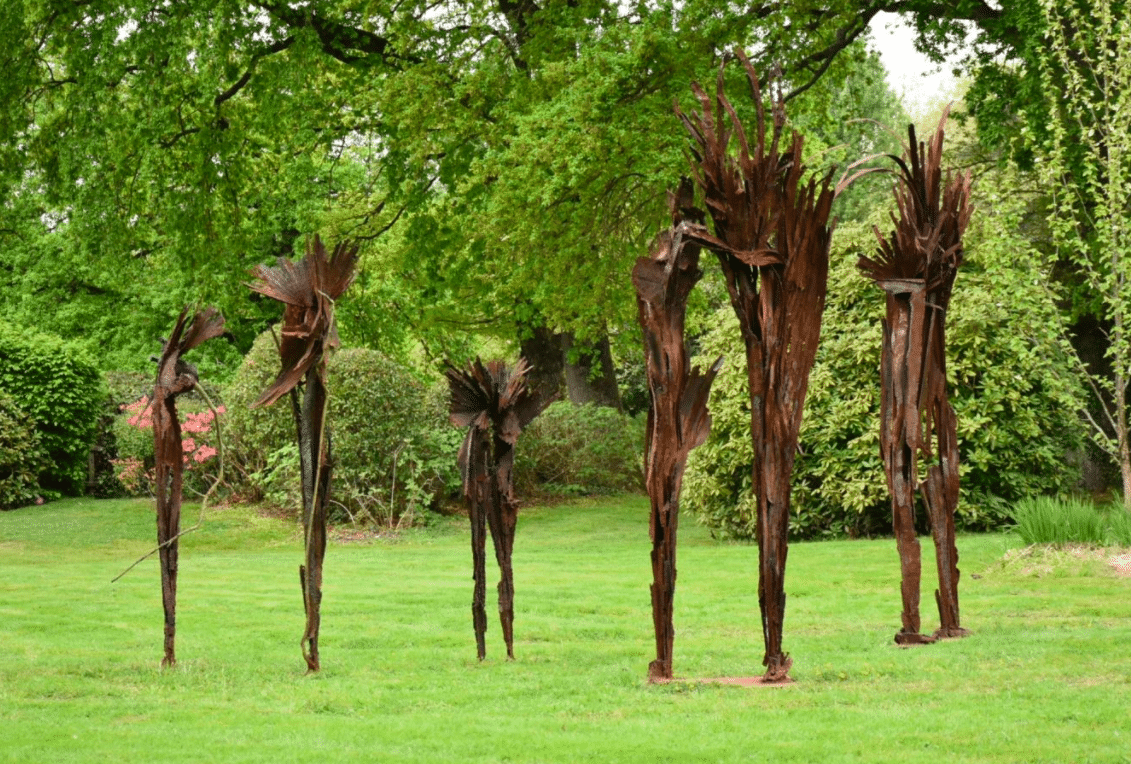 These sculptures symbolize the link between man and tree.
Julien Allegre keeps the essentials of man by working with the material, as you could see on "The Beast", to bring human beings represented by these sculptures even closer to nature.
These "Fossil Men" anchored in the ground are the representation of man, his fragility and the link he has with nature.
They are inspired by nature, fossils linked to the work of matter and fossil fuels.
The artist wants to show us the link between plant and man, because both trees and men come from the same source: the earth.
Julien Allegre wishes to lead us to question the cycle of our lives.
We are born, we grow up, and we die to go back to the earth.
This brings us back to the first photo you saw at the start of this article. There is one of the sculptor's latest works: "Exuvie", which symbolizes birth and the balance of life.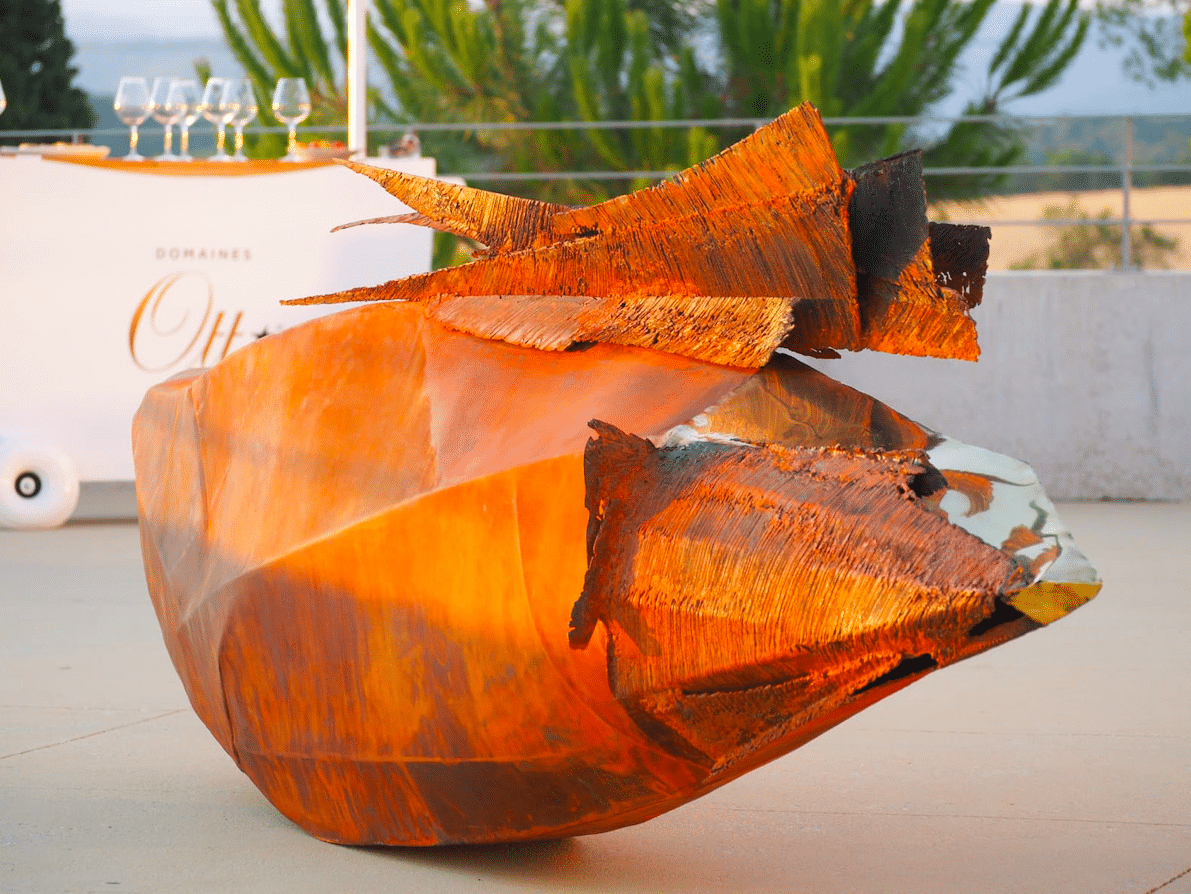 Photo credit: Colastudio
Finally, as you can see, Julien Allegre deeply likes to "speak" to us through his art of nature, of the relationship that men have with it while using one of his skills, music.
Now we can wonder how his sculptures will evolve. I am sure that everything we are going through will give her a lot of inspiration.
I hope you enjoyed this article.
Questions come to mind? Do not hesitate to contact me, I will answer you as soon as possible.
Thanks for sharing this article.
Below you will find the various links to social networks on which you can share.
And you: what did you know about Julien Allegre?
I await your answers.